..it just doesn't end.

August 14 - Thursday

My registration time period is closing in and I'm pretty nervous 'cause I don't know if I'm gonna get the classes that I need. Well, today, I dropped off Mariz at Horton and Toby at his girlfriend's house. Later on, I went with Auntie Lyn to Lynard's appointment. Afterwards, we went to Starbucks and then back home. I was expecting something today but I guess its coming tomorrow. Anyways, Toby called and I picked him up. In a few minutes, I'll be outside playing basketball. I'm getting a lil' better. Just trying to perfect my jumpshot and stamina. Hella couldn't keep up with the Sunnyvale kids. Oh, well, I'll be seeing them in the winter.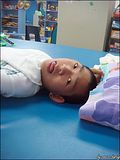 WDIWT