Track on Repeat:

Slim -
Apologize
Random thoughts
Been feeling up & down this week. Maybe its the midterms. I don't know. Its really hard battling 2 conflicting feelings; sadness & stress. Man, it makes concentrating on school even more difficult. I think what I need to do is leave it alone. I have no choice. As much as I want to always call & what not, I know I shouldn't. I gotta stay back & prepare myself for a long, cold winter...
Anyways. Last night, I had a dream that I was in the Philippines. I remember that I was sitting down on a bench. Then my Lola & Lolo come & sit right besides me with their arms around my shoulders. I honestly felt like they were really there huddling next to me. While they had there arms wrapped around me, I started crying. And then all of a sudden, I woke up crying. Crazy shiii, man... I didn't know what to think of it until I asked Auntie Lyn & Auntie Emelda. Auntie Emelda said that they really do love me and that they were probably letting me know to stop worrying so much & that they'll always be with me. I'm glad they came to visit me because it makes me realize that I need to get serious with my life & focus on school so I can graduate and take care of my mom...
_________________
November 21
-
Friday
Astrobiology midterm seemed to go well. Studying helps but not when its done the night before. Such a bad habit to have. Treated Auntie Lyn, Mariz, & Uncle Ernie to Jack in the Box. Toby was at his gf's house, so he missed out. Dropped off Mariz to work after Jack in the Box. When we got back home, I just skated for awhile. Then balled until the street lights came on and I balled some more.
Love this picture
Looks much better now
Custom balls. Lol
Can't choose between B/W & colored
Another custom ball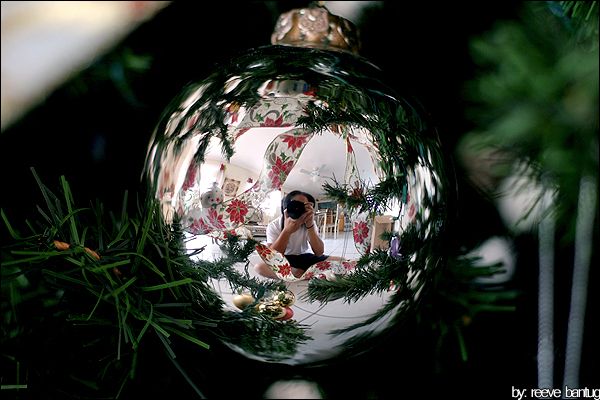 Reminds me of a fisheye effect
Speaking of fish, who puts fish on their X-Mas tree? I guess Filipinos? Hahaha
Don't touch my balls!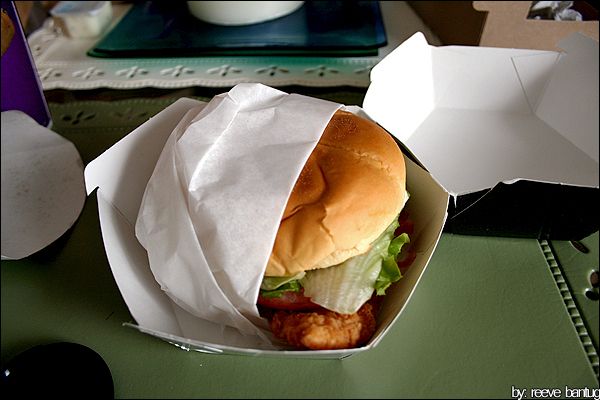 November 20
-
Thursday
RIP, Grandpa Mel.
While I was studying after I got home for my morning classes, I got a call from my mom. She told me her uncle pasted away around noon. Condolences to my grandpa's family.
Before class...
...& after class
This is what happens when I get side-tracked from studying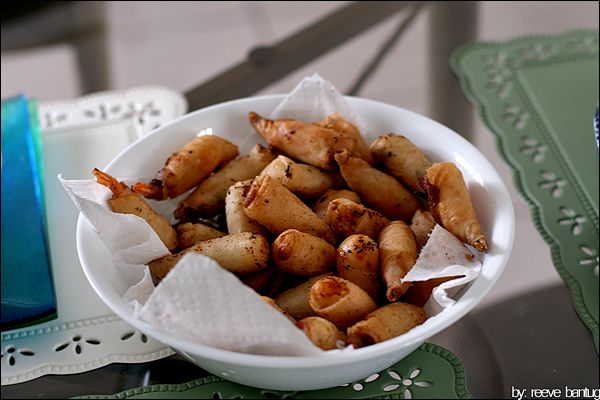 MMMmm.. I love Shrimp Lumpia
Hella plain
A prop for Uncle Ernie's X-Mas decoration
Finally, Autumn weather..
November 19
-
Wednesday
Finally get to relax just a lil'. Not really. In my physiology lab, 2 people had to participate in this experiment we had to get down where we take a look at the affects of exercise on the body. Guess who was one of the 2? Yup, that's right. 5 trials of 2 minutes each on a bike with increasing levels of tension (4-8). My team had to check my blood pressure, pulse, breathes/30sec., temperature & sweat count on the forehead/neck. The damn TA told me to push hard & I was stupid for listening because I was hella sweaty & tired as hell afterwards. Lol, at least I got to interact a lil' more with my classmates. I'm surprised that they knew my name since I don't really talk to anyone. When I got home, I played with my new toy..
Canon RC-1 Wireless Remote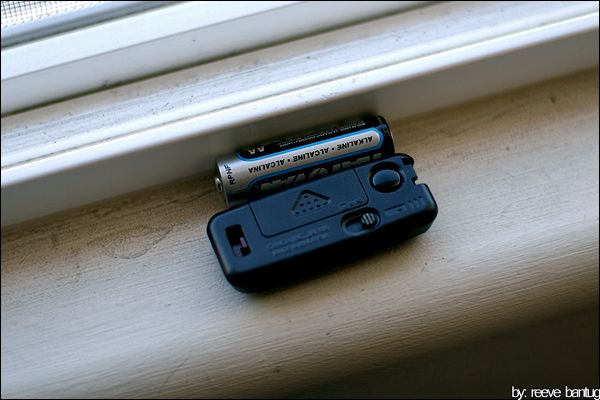 A little comparison
Just some self-portraits; 50mm f1.4 x RC-1
I was bored so yeah. I'm happy with my 50mm f1.4 =]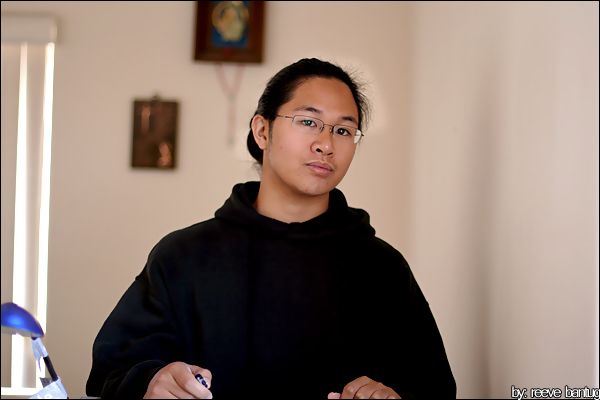 See?
Small, huh?
Mr. Pogi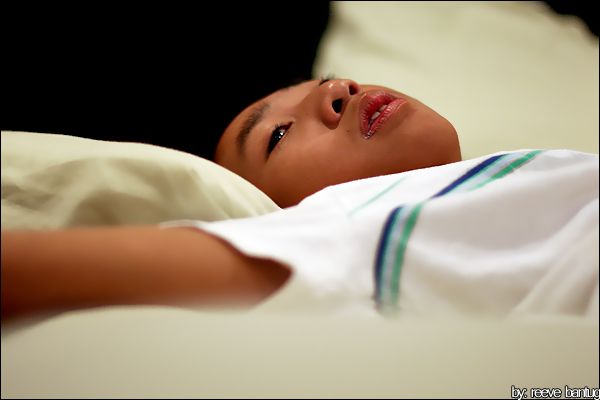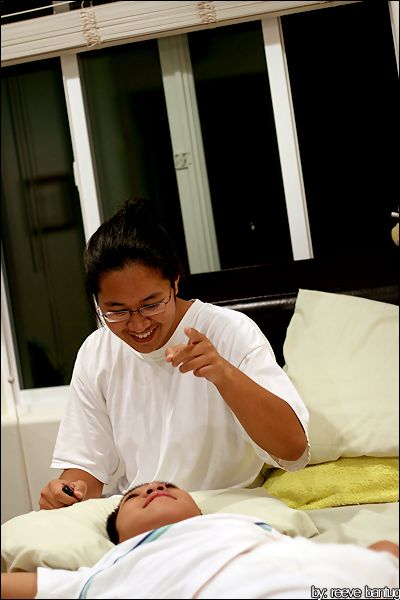 Had to get in the picture
The TV gets his undivided attention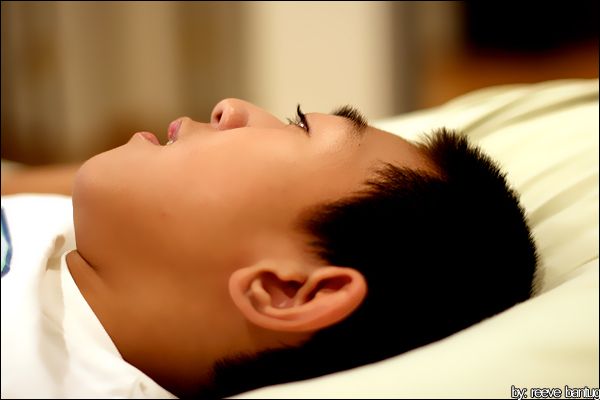 So intrigued with Drake & Josh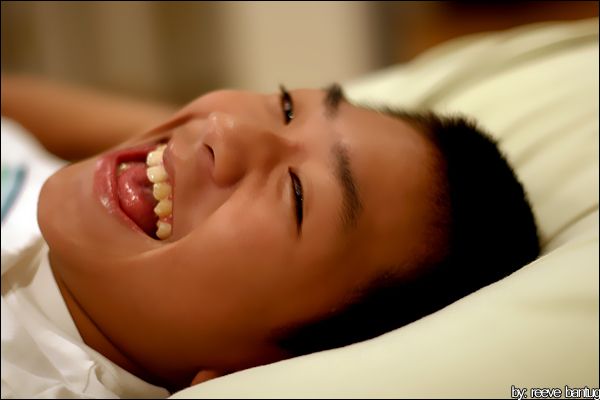 Seeing him happy makes me happy...
November 18
-
Tuesday
Damn, had to take 2 exams. Anthropology 402 & Biology 261. ANTH402 was okay, just a bunch of definitions so it was pretty simple except for the essay question at the end. I always get hyped up with exams and therefore leading me to get stressed out about it. I guess that's what happens when you only start studying for it the night before. Fawk, BIOL261 was hella hard. Even though I know the format of the questions & that its multiple choice, its still hard. I'm hoping I got by with a B+ so when Dr. No curves it, I get at least an A-. After midterms and my afternoon class, I was checkin' my e-mail & I got a message saying that I received my package. I asked everyone if I got one, but everyone said no. So, I checked the mailbox & I got a lil' surprise from the mailman..
1 of 2 that I'm expecting.
Yay! A remote!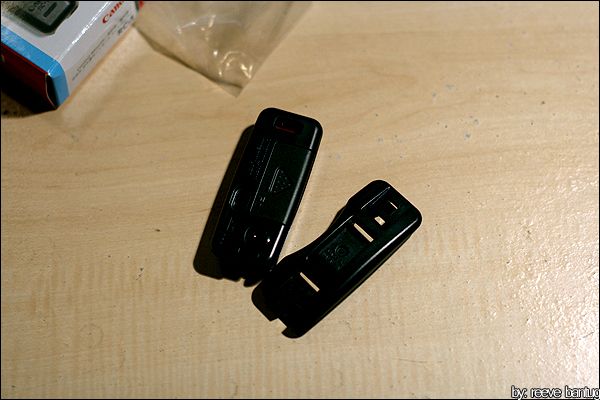 This is my new favorite toy =]
November 17
-
Monday
Studied majority of my day on my Human Physiology midterm. Had even more notes for my Anthropology midterm.
My kryptonite for tonight.
Didn't really help me much; just had to pee after a few minutes of finish it. Lol.